25% of the online users enjoy seeing retargeted ads.
There is a 70% chance of conversion with the website visitors who are remarketed.
3 out of 5 online viewers notice and consider display ads from their previously visited pages.
47% online audience are ready to ditch privacy for a better deal.
Go forth and remarket to drive quality leads back to your website!
Google Retargeting
Connect strategically with people as they browse Google or its partner websites to remind them to make a purchase.
AdRoll Retargeting
Take retargeting to the next level with AdRoll which has access to advertising partners who makes up for about 95% of the web.
---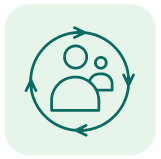 Social Media Retargeting
Display your ads without annoying the user on social media platforms like Facebook, Twitter, and LinkedIn.
Performance & ROI Reporting
Increase your ROI on Ad spend, analyze and fine-tune your approach for retargeting purposes along with our marketing professionals.
Ad Retargeting Services in Dubai, UAE
As a leading content marketing agency in UAE, we help you maximize your brand reach on the web. Get in touch with our content marketers to discuss your project.