Why advertise on Bing Ad Network?
More than 133 million unique searchers use Bing network.
Google owns 71% of the search market share.
With a single Bing ad, you can reach 162 million unique searchers using Microsoft and Yahoo sites (including Yahoo Search, Bing, and AOL)
Bing shows more ads at the top of the page.
5 billion monthly searches happen on Bing network.
Take advantage of Bing's potential
to convey your brand message
---
How we manage your Google Search Ad Campaign?
Campaign Strategy
Don't ignore a high-potential target group on Bing. Plan a Bing ad campaign with our experienced team based on your AdWords data.
Ad Copywriting and Creative Design
Increase the efficiency of Bing ads with creative, responsive designs and impactful ad copywriting.
Campaign Management
Webarro helps you manage Bing campaigns and our team stays up-to-date with the latest news so that you can make the most of advertising opportunities at Bing.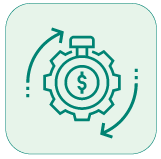 Performance & ROI Reporting
Keep a track of your Bing ad spending and how your ads are faring with real-time data so you know how your target audience consumes your content.
---
Working with Nathaniel and his team was seamless and professional. Even though we were in different locations, we faced no difficulties to work which was only via emails and telephones. Even after the website was live, they were always willing and supported us in case of any glitches and the smallest of queries. Happy to recommend them to one and all.
---
Enma Popli
Founder, Skillsmart
Bing PPC Management Agency in USA
As a leading content marketing agency in USA, we help you maximize your brand reach on the web. Get in touch with our content marketers to discuss your project.