Best SEO Services Company Dubai
As a UAE based SEO services company in Dubai, Abu Dhabi, Sharjah, Al Ain, Fujairah, Umm al-Quwain, Ajman, Ras al-Khaimah, Fujairah remains as one of our key services that has been helping businesses gain better online visibility and higher web traffic.
---
Our SEO service in UAE consists of all that is required to help your business rank higher in searches, without costing you an arm and a leg. It includes SEO Strategy, SEO Keyword Research, Onsite and Offsite SEO, Link Building and others. Whether your business needs a local SEO in Dubai or need a global SEO strategy, our team is well versed with the complexities of the web that you will have no worries about you site's visibility regardless of what's cooking in the cyber cauldron.
Here's how we make your website found online
Get diagnosed to start with
Assessment and SEO Strategy Development
Each business is unique, so are your SEO requirements! As your SEO consultant in UAE, we take time to get to know you, understand your business objectives, and develop an SEO strategy that meets your goals and budgets.
Creating the springboard that outdo competition
Competitive Analysis
Want to cruise ahead of your competitors? At the beginning of our SEO efforts, we conduct a thorough competitor analysis to evaluate your competitors' on-page optimization tactics, incoming links and keywords and formulate strategies to get ahead.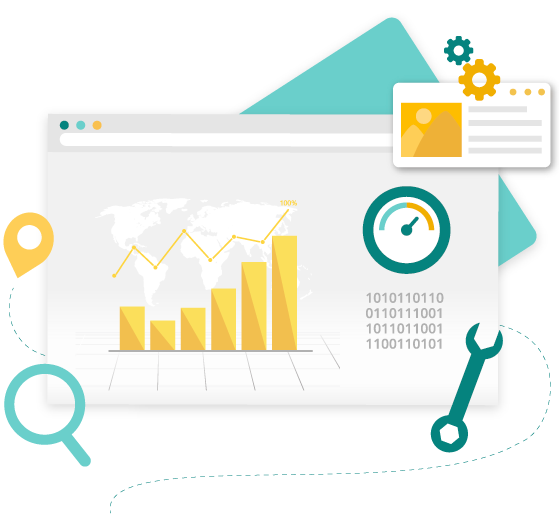 Marking words that'll find you online
Keyword Research and Search Optimization
Call us Picky when it comes to keywords! Our SEO team conducts a thorough research of your industry's online landscape to identify the right keywords that would highlight your website in popular Search Engines and create keyword-rich landing pages to drive customers to your site.
Building links that matter
Link Building and Off-Page Optimization
At Webarro, we indulge only in white-hat link building practices. Our off-page optimization starts with careful selection of platforms, content development and building links that can boost your ranking and increase the chances of being found on search engines.
Making your site easily shareable
Social Bookmarking
We'll boost your site's social shareability by listing in popular social bookmarking sites. It means that visitors can now easily tag your website and share the content online, an effective way to build external links and increase site exposure.
Get analytical to see the difference
Monthly Analytics Report
We know how it feels to see your website climbing the chart! That's why every month we send you an analytics report of your site's performance including website traffic, keyword ranking and visitor preferences.
Choose Your SEO Package
At Webarro, we understand that there's no one-size-fit-all solution when it comes to SEO.
That's why we have packaged our SEO services differently to help you choose the one that works best for your business.
Make a choice based on your needs and the level of visibility your business would require online.
Standard SEO
Ideal for 10- 12 page websites who want to gain visibility on a national level. Our team will identify and optimize the right keywords that will make your website findable within the first couple search engine results pages. Choose this plan if you believe that having a beautiful website isn't just enough, but need efforts to boost your website visibility and traffic.
---
Advanced SEO
For those who are hungry to drive business online, this plan is just right for you! This package comes with aggressive marketing tactics including formulating strategies that outdo competition to gain higher ranking in search engines. Recommended for e-commerce portals and all businesses who wants to aggressively market their business online.
Standard SEO
Up to 10 keywords optimization
Limited article submission
Monthly SEO & Activity Reports
Best result within 9 months
Advanced SEO
Up to 20 keywords optimization
1 Blog published every month
SEO Dashboard & Live Analytics
Best result within 6 months
Dedicated and a professional team. Really satisfied by the services of the company. Indeed the first impression of the company would reflect how very well structured and organized the company is. It was a pleasure working with the company.
Mujtaba
Founder, BLU FZE
SEO Company in Dubai, UAE
If you are looking to partner with a reliable SEO firm in Dubai, let's meet over a cup of coffee or feel free to chat with us.